Elisha Robert Walton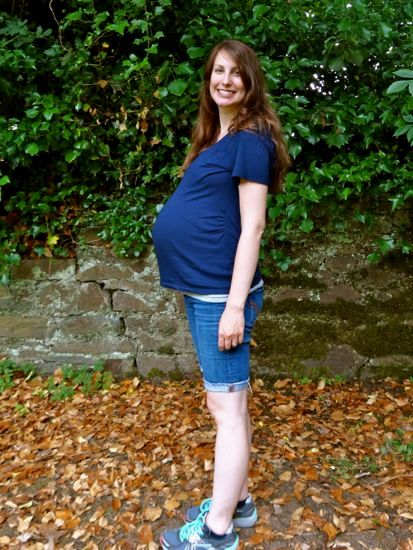 Me at 40 weeks. Little did I know that within 24 hrs of this pic being taken, I would be in labor at the hospital!!!
At 2am on the 17th of July, I finally couldn't sleep anymore. I had been having contractions since the night before, but I was able to sleep through them. At 2, I finally gave up. They hurt too much. We timed them and even though they were strong, they were pretty irregular. I called the midwife and she said that I should try to take a warm bath and see if that helps. It didn't. Fast forward a few hours and at around noon I decided I couldn't take it anymore. The contractions were just getting worse and I was really feeling them in my lower back, but they were still irregular. I called the midwife again and she said that I could come in and get checked, but if I wasn't progressing, they would send me back home. I decided to take the chance, curious if I was getting anywhere. At around 1 we got to the hospital, and it was confirmed, I was in established labor! I was so thankful to be able to stay as they have options in the Midwife Led-Unit for pain that I didn't have at home. They gave Stephen and I some toast and tea while waiting for the birthing pool to fill. It was nice to eat something since I hadn't ate anything since the night before. We were also able to put on our own music, I had just made my playlist the night before! The pool helped for awhile. I stayed in it for about 4 hours, but still, the contractions were just getting worse and worse all of the time. I was progressing normally, which was encouraging, but I decided to get out of the pool and try to work the baby down on the birthing ball while using Entonox (laughing gas). I was afraid to use the gas at first because they say that some people feel nauseous using it and that it dries out your mouth because you have to inhale deeply, but the gas soon became my best friend! I could still feel every contraction, but you breathe in the gas the whole time and by the end of the contraction... you just don't care! I stayed a few more hours on the ball and we had another round of toast and tea. At around 8pm I was in another world of pain. The midwife laid out a couple bean bags on a mat on the floor and I leaned over them. At 9pm my water finally broke, and they saw that I had a little meconium in it, so things had to get moving. They gave me a 1/2 hour to push out the baby, but I really didn't know what I was doing. I was so exhausted by this time and was pushing all wrong. Plus, with my back labor, the baby was coming face up which made it more difficult. They had me switching from a birthing stool, to the bed, back to the birthing stool and finally they decided that I needed to be transferred to the labor ward downstairs. I never imagined being in a wheelchair pushing with contractions while in an elevator... but that was what I experienced. After getting downstairs, I had about another 1/2 hour of pushing with the Doctor using a vacuum to help.... and help is definitely what I needed. They explained to me that the baby might not cry right away because of the meconium, but that I shouldn't worry because they had a pediatrician right there to look at our baby as soon as he comes. Our baby was born at 9:55pm! What a relief when it was finally all over. Stephen and I were just so thrilled once the baby came and came CRYING! It helped us to know that the baby was fine. Stephen cut the cord and they took the baby away. Then Stephen asked "wait, is it a boy or a girl?" "Boy" they said. We were shocked! We thought the whole time that we were probably going to have a girl, plus all of the midwives were saying that I was probably going to have a girl... but it really was a surprise with our little boy!!! Not only was he born face up, but he had his little fist by his head as well.... I definitely needed the help!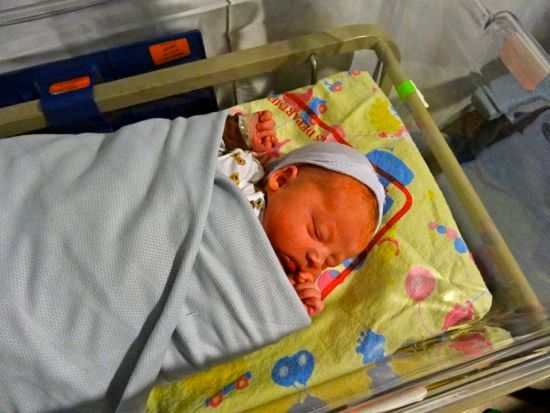 8lbs 15oz, 21 inches long
I felt like I really had awesome care here in Ireland with having our son. Everyone was so kind and helpful. I am also glad that it is over! haha
We are so thankful to God for our little son. We love him so much and just love staring at his every move.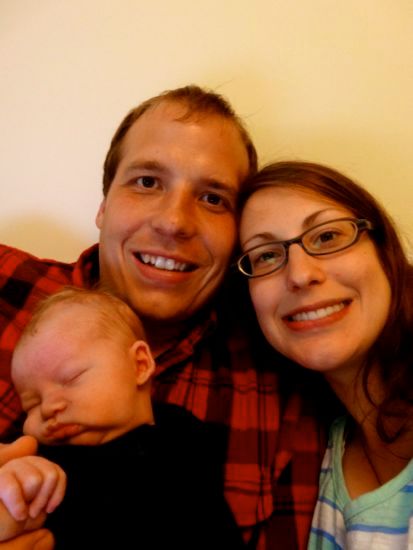 Our little family
Some people ask how we decided on his name. Stephen actually liked that name before we were even expecting! Elisha is after the prophet Elisha in the Bible. The name means "God is Salvation". Robert is after a few people on Stephen's side. He had a great uncle named Robert Walton who was always a hero to him. He was a medic at Iwo Jima. Stephen's father was named after this uncle and has Robert as his middle name. Also, his Grandpa on the other side of the family has the middle name Robert and Stephen's mom was named after him (Robin). So, that is why we decided on the name!