Our Move
On May 28th we moved our things from our apartment here in Drogheda to our new place!
I was very nervous of how all of the details of this move would work out, but God really provided for us. I honestly don't know how it could have gone smoother! The whole day Stephen and I felt very blessed.
Stephen went to Dublin in the morning to pick up the moving truck. After he came back, we had a group of three guys at our house waiting to help us load up. We made sure to do all of the packing before hand, but there were still larger pieces of furniture we had to wrap up. It was great because everything fit into the moving truck that we were able to rent (you can only rent a moving truck so big here on a normal license... nothing huge like we could in the States).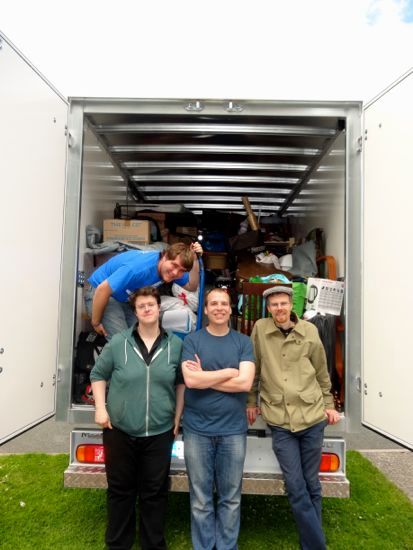 Our awesome help in Drogheda!!!
Just after the guys got the truck loaded up, Stephen and Mark (a college student from Missouri who was here on a missions trip at the time- lucky guy, could help us move!!) headed off to Galway while I stayed behind to clean our apartment. I had a friend, Aida, come and help me. Let me just say she was amazing. We systematically moved from room to room cleaning from top to bottom. She was such a HUGE help to me, I cannot imagine doing that all on my own. Towards the end my friend Tracey also came and helped with a few things. It was wonderful.
Our awesome help in Galway from Elevate Community Church, Limerick
Meanwhile, once Stephen and Mark got to Galway, a group of 9 from a new church plant in Limerick (about an hour away) called Elevate Community Church came and helped us on that side of the move. Stephen said that he honestly didn't know what we would have done without them. Once they figured out the best spot to park the moving truck, the moving went pretty smoothly. We were so thankful for that group.
Stephen and Mark drove back to Drogheda that night as we had to drop off the moving truck again in the morning (no super-convenient U-Haul over here, but then again, the island isn't that big either). The next day we loaded up the rest of our things in our car and moved out! It was definitely a stressful couple of days, but again, we honestly felt so blessed by our friends the entire time. That afternoon and evening we really focused on getting as many things unpacked as we could. Even Mark pitched in where he could without complaining. He was a huge help.
The next day we decided we needed a break, and we didn't want Mark's entire trip to be focused on the move! We took him down to the Cliffs of Moher. It ended up being a beautiful day. It was just great to get away from all of the boxes for the day!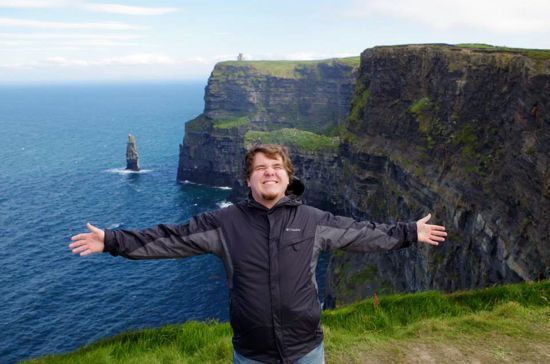 I think Mark really enjoyed it.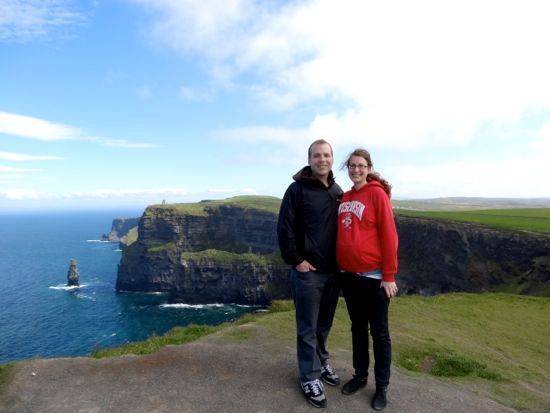 Stephen and I enjoyed it too, but, it does look like we are photoshopped into this picture. Believe me, we really were there!!!
Pictures of our new place are coming... we would like to get a bit more settled in first!