What we did for Christmas
On Christmas Eve one of the families from the church invited us over for their dinner. They have their special meal on Christmas Eve, and, since they are Lithuanian, they have their own special tradition of having 12 vegetarian dishes to eat. There was actually a lot more than just 12 dishes though. At first we ate different salads and soup (some had fish, some didn't), then after we were done eating that, roasted potatoes were passed around and some baked salmon (they also had a pork stew for some non-Lithuanians, Stephen & I and two Irish wives). Stephen had the Salmon and I had the stew. It was good. By this time I am extra stuffed because I thought it was just the salads that I thought that they ate, so I wasn't ready for a main course, but then there was dessert.... and then dessert.... and dessert! Yes, three desserts! After we were all stuffed beyond stuffed, we retired to their living room where we opened presents. It was just fun to see what everyone got for one another and to be in a family environment. We are so blessed to have this family as our friends!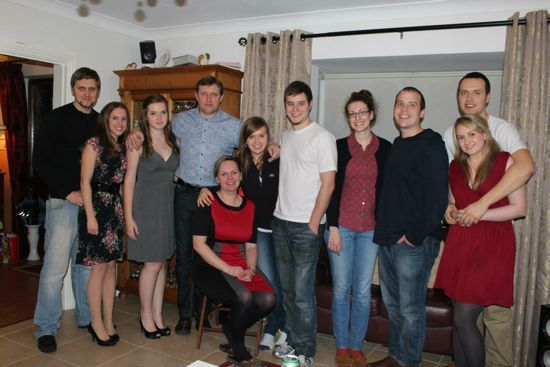 Photo: Andruis Rakauskas
On Christmas day, Stephen and I went to church (they always have church on Christmas day). After we got home we started making our Christmas dinner. I made a pecan pie (thanks to my Mom sending me a giant bag of pecans I felt I could splurge with) while Stephen made us brunch. Sausages, Eggs, and Toast. After that, we got Cheesy hash brown casserole ready to be put into the oven at a later time. It was time to talk to my family. We watched them all open presents over Skype and after that we talked to my brother Jared for awhile and then my sisters. It was the next best thing to being there. After we were done talking to my family, we talked to Stephen's. That was fun as well seeing them open their gifts. We were able to talk with them for a long time which was nice. During that time I popped a ham into the oven and made a brown sugar mustard glaze for it which we continually basted it with. It turned out lovely. Then we put the hash brown casserole in and also made green bean casserole. It was a good Christmas dinner and we finished it by watching Rudolf the Red-Nosed Reindeer. We were planning on watching more Christmas movies (It's a Wonderful Life & The Muppet Christmas Carol), but it was already getting too late. We had talked too long with our own families.... but could it really be too long? Nah! It was almost like we were there with them. We are so blessed to have Skype!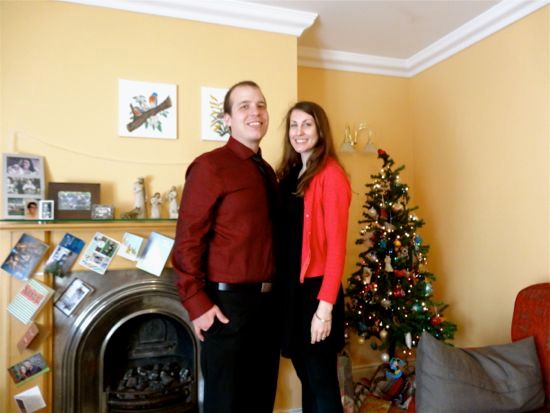 Hope all of you had as nice of a Christmas as we did. Thank God for sending us his Son!