Pumpkin Cake with Whipped Cream and Pecan Praline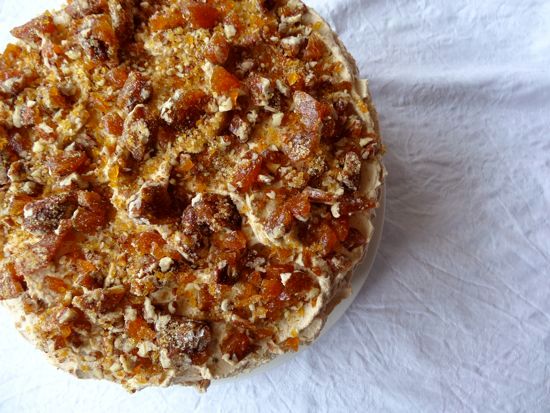 About a week ago, I made this cake for a friend's birthday. I had put this recipe in a "to make" folder (an actual folder, not just pinned to Pinterest! I know, so old fashioned!) ages ago and now felt like this was the right time to try it. Autumn is here and this is a great cake for the season.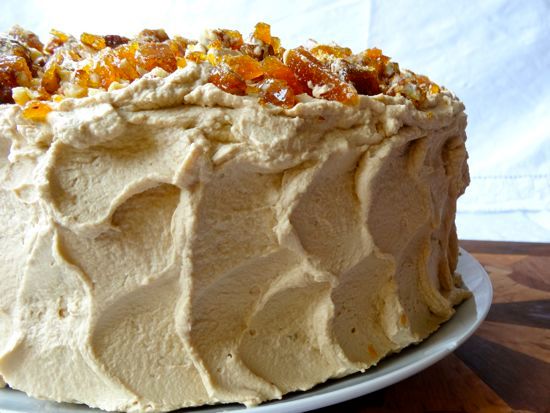 Wonderful, flavorful whipped cream icing nicely spreads over the layers of spiced pumpkin cake and the pralines add a nice crunch. I found this recipe in a
Rachel Ray Magazine
.
I have to admit, I have never used so much sugar in a single recipe in my whole life, but this was super delicious!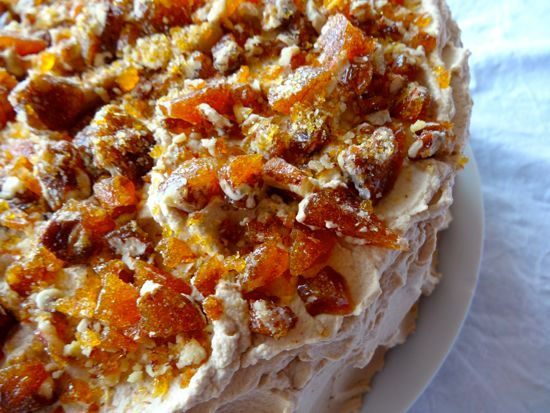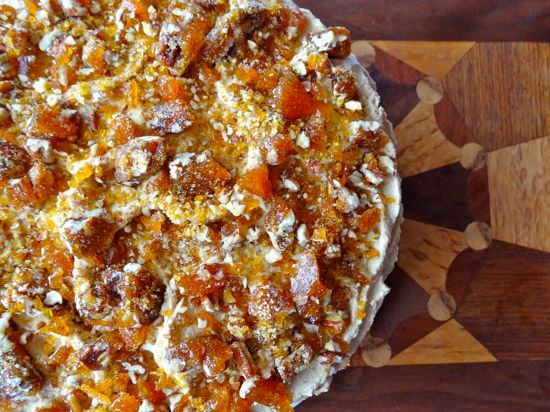 Pumpkin Cake with Whipped Cream and Pecan Praline
From EveryDay With Rachel Ray
Makes one 8in 4 layer Cake
Ingredients:
3 cups granulated sugar
2 cups pecans (about 8 oz)
2 1/2 cups flour
1 tbs pumpkin pie spice
1 tsp salt
1 tsp baking powder
1 tsp baking soda
2 sticks (8 oz) unsalted butter, at room temperature
2 cups packed brown sugar
4 large eggs, at room temperature
3/4 cup milk
Grated zest of 1 orange (I didn't put this in)
1 15oz can pure pumpkin puree
3 cups heavy cream, chilled
2 tsp pure vanilla extract
1. Line a baking sheet with parchment paper. Butter two 8"-by-2" round cake pans (I used my 9" pans). Line the bottoms of the pans with parchment paper and butter the parchment. Flour the pans.
2. In a large skillet, melt 2 cups granulated sugar over medium-high heat until light amber, about 7 minutes. Reduce the heat to low, and add the pecans and quickly stir to coat. Transfer the pecans to the prepared baking sheet and, using a metal spatula, spread in a single layer to cool completely. Place the praline in a sturdy resealable plastic bag and crush into pieces; set aside.
3. Preheat the oven to 350 degrees. In a bowl, sift together the flour, pumpkin pie spice, salt, baking powder and baking soda. Using and electric mixer, beat together the butter, 1/2 cup brown sugar and the remaining 1 cup granulated sugar until light and fluffy, about 3 minutes. Add the eggs, 1 at a time, beating until combined. Beat in the flour mixture in 3 parts alternately with the milk and orange zest on low speed until just combined. Add the pumpkin puree and beat until just combined.
4. Divide the batter evenly between the 2 prepared pans and bake until a toothpick inserted in the center comes out clean, about 45 minutes. Transfer the cake layers to a rack to cool, about 10 minutes. Remove the cakes from the pans, invert and peel off the parchment paper. Let the cakes cool completely on the rack, about 45 minutes.
5. Meanwhile, make the frosting. Using a standing mixer with a whisk attachment, whip the cream on medium speed until soft peaks form, 2-3 minutes. On low speed, gradually beat in the remaining 1 1/2 cups brown sugar and the vanilla until stiff peaks form. Cover and refrigerate until ready to use.
6. Assemble the cake: Halve each cake layer with a serrated knife. Place 1 cake layer on a platter. Spread the whipped cream frosting on top about 1/4 in thick; sprinkle with about 1/2 cup crushed pecan praline. Repeat with with three more layers, saving enough frosting for the cake sides and reserving the last layer of praline. Spread the remaining frosting evenly on the sides of the cake and sprinkle the reserved pecan praline on top. Refrigerate the cake for at least 1 hour before serving.
Tips:
1. Draw the outline of your pan on parchment paper and cut out the round with scissors.
2. To make your cakes bake flatter, cut a towel into strips, get each strip wet and tie or pin them around your cake pan.
3. The cake layers can be wrapped and stored at room temperature up to one day ahead of frosting.
4. Cutting the cakes in half is easier if the cakes are chilled.
5. Before making the frosting, chill the mixer bowl and whisk attachment in the freezer.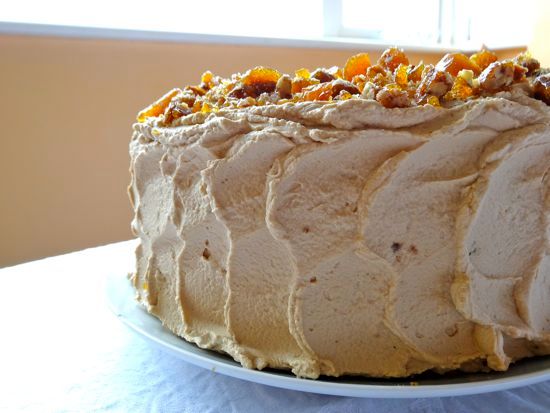 Let me know if you try out this cake!