The USA is still A-OK
From May 29th to June 20th we went back to the States! It was such a great trip and Stephen and I both feel so blessed to have been able to spend even this short time with our families and friends again. The main reason why we went back is because Stephen's brother was getting married. Since Michael asked Stephen to be in the wedding, we thought we should probably come back. :)
After a full 24 hours traveling we arrived in Wisconsin. It was so nice to be back home! Here is some pictures of what we did while we were there.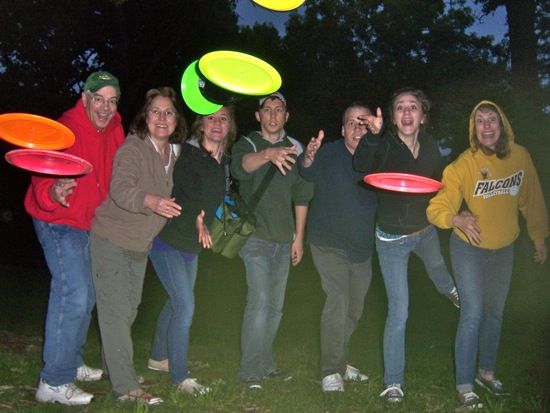 All of my brothers are really into playing disc golf, so Stephen and I really enjoyed learning how to play. Here is a picture of all of us after a game.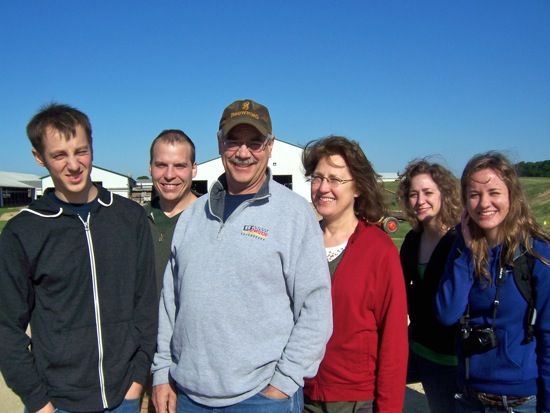 One morning we got up and went to the Dairy Breakfast. I always love going to these.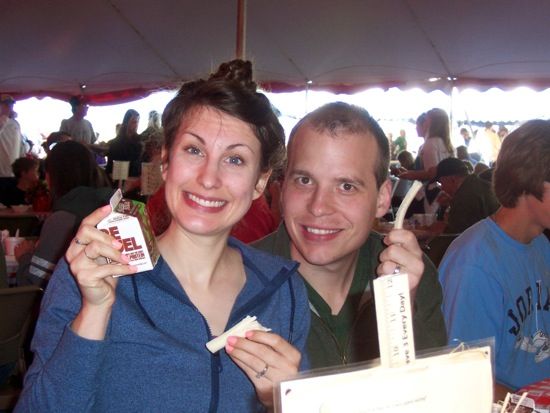 \
They set up a big tent on a local farm and serve pancakes, ham, cheese, yogurt, applesauce, white and chocolate milk. It is a lot of fun.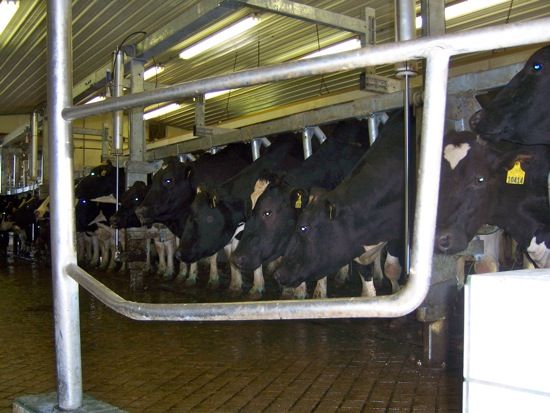 Here are the cows getting milked. They milk 24 hrs a day. The cows come in and know exactly where to go. The tag on their ear gets scanned and the machine will stop milking them automatically after they are giving less than 2 lbs a minute. This is so that no cow is over-milked.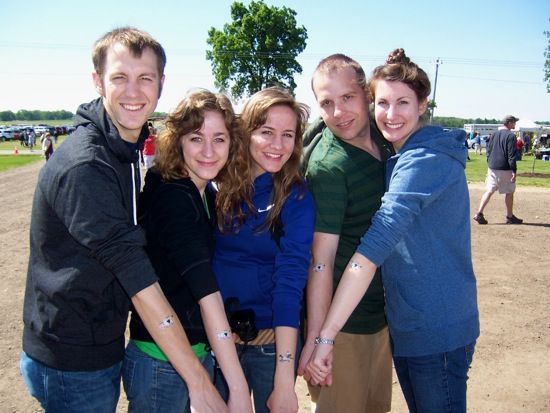 We all got cow temporary tattoos. Well, except for Sarah who decided to get a horse....
It was great to be able to see my Grandma again.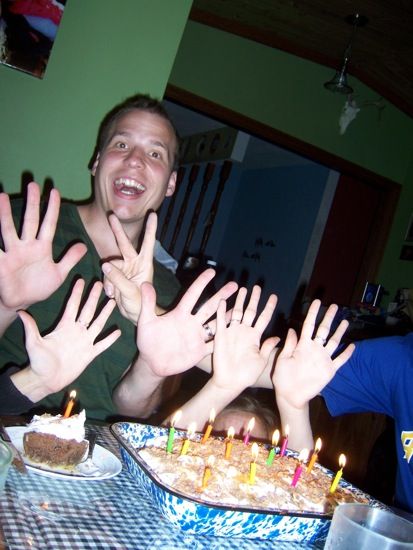 Stephen turned 27. I always knew he could do it.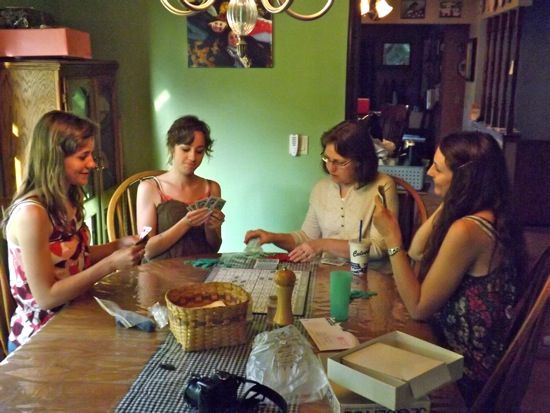 It is always fun to play games with my family.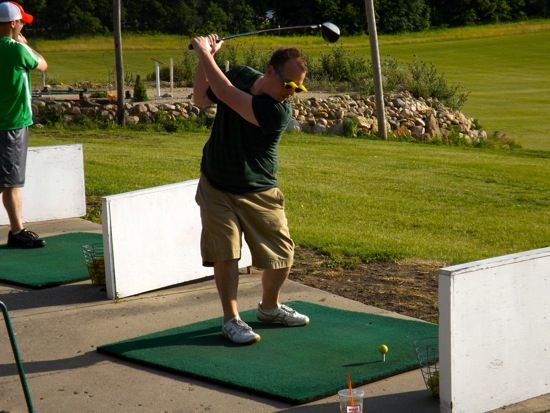 Stephen wanted to go to a driving range for his birthday. It was the first time that I or my family had ever gone to one. It was pretty fun, but I can't say that I was good at it. Found out my sister Leah has a natural talent in driving. haha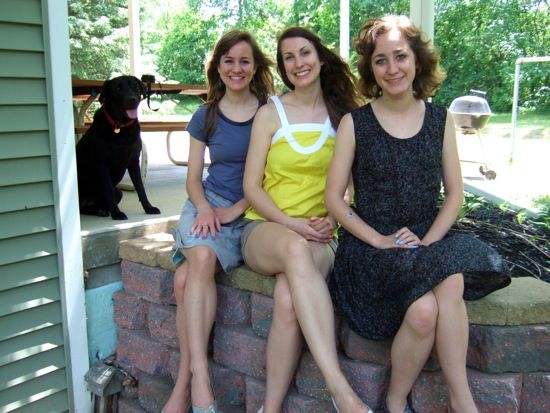 I like this picture of me & my sisters. Mostly because Vixey (the dog) is smiling as well.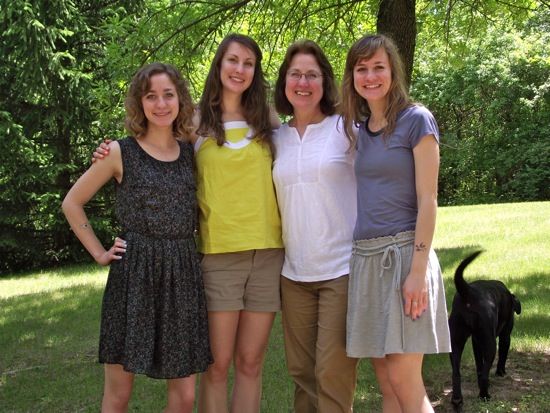 My sister Leah, Me, my Mom, and sister Sarah.
After our time in Wisconsin we went down to Missouri for Michael & Heather's wedding. It was beautiful.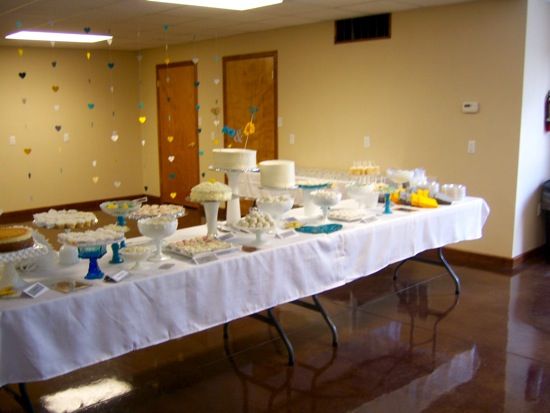 A table of delicious white desserts.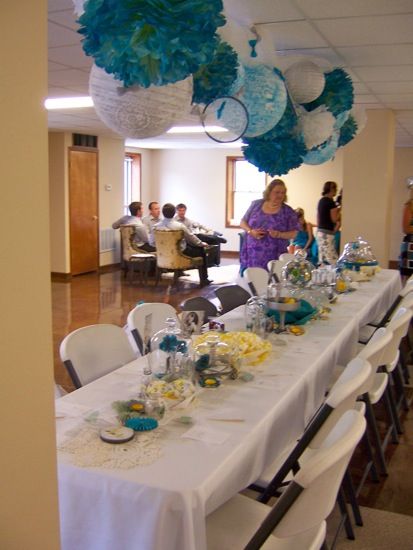 Heather spent a lot of time on the decorations. It all came together so well and was very beautiful.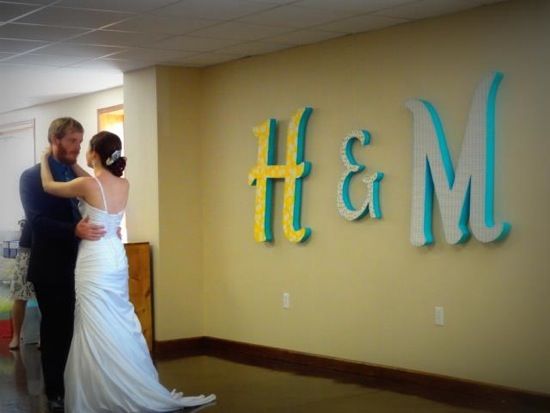 Their first dance.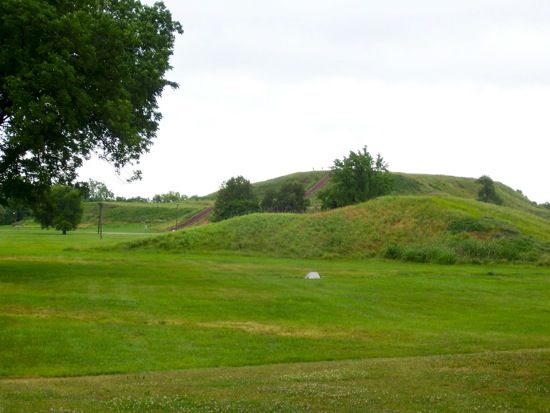 After the wedding we went to Granite City, IL (by St. Louis) to visit Stephen's grandparents. We visited Cahokia Mounds. It is the remains of the most sophisticated prehistoric native civilization north of Me
xico. It was pretty interesting.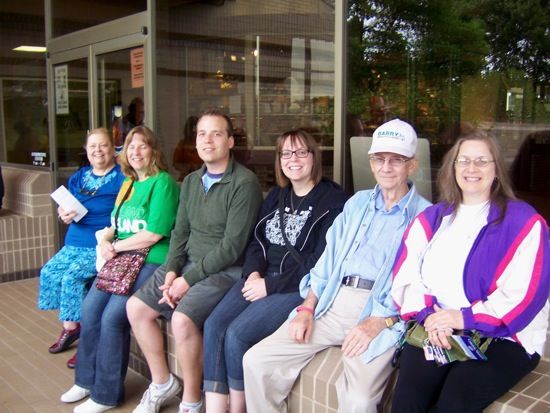 Stephen's grandma, Mom, Stephen, his sister Michelle, Grandpa, and his aunt Wendy before the tour.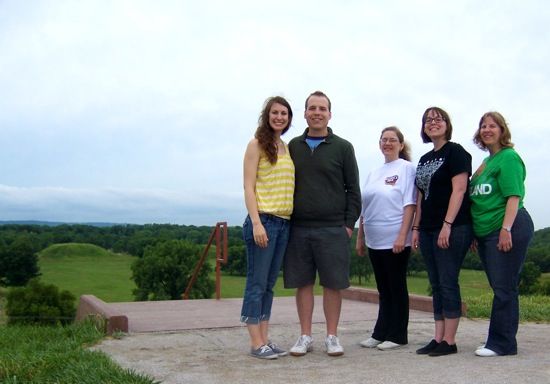 We made it to the top of the highest mound!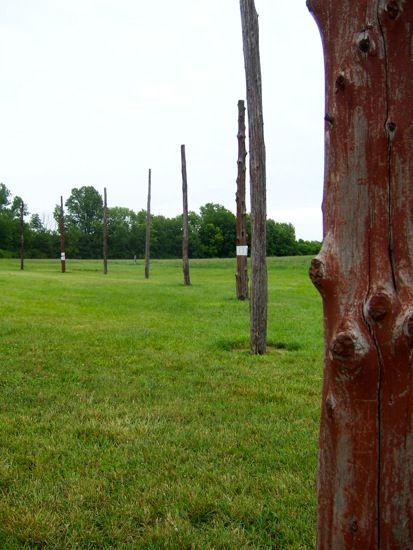 Woodhenge... the way the people at Cahokia kept track of the seasons.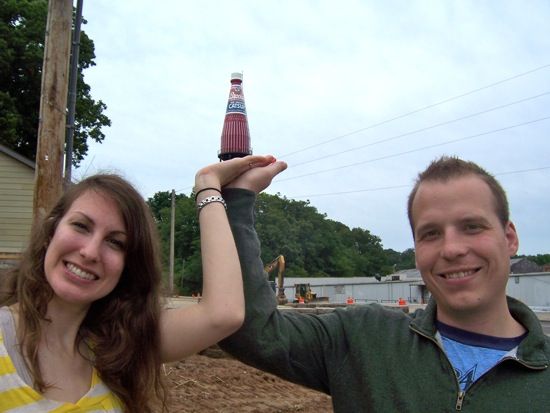 Afterwards we went to see the world's largest bottle of ketchup. haha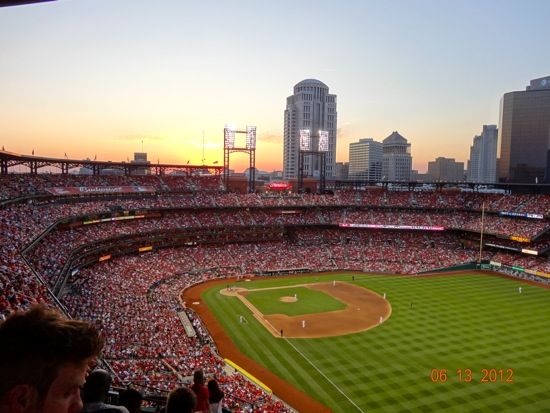 We were able to go to a Cardinal's game.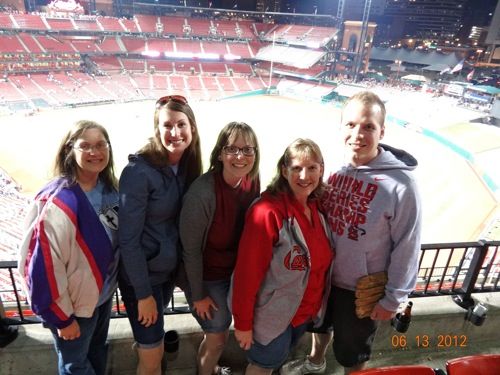 After the game.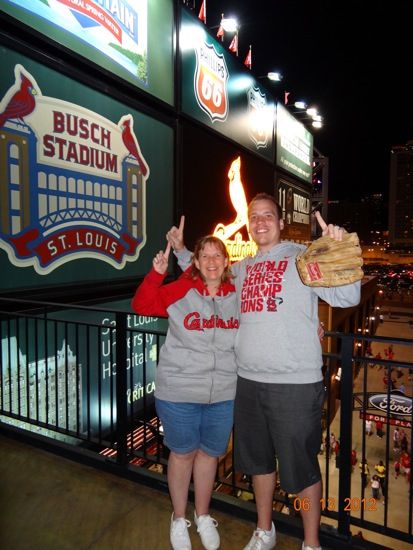 Stephen & his Mom... the biggest Cardinal fans of all of us.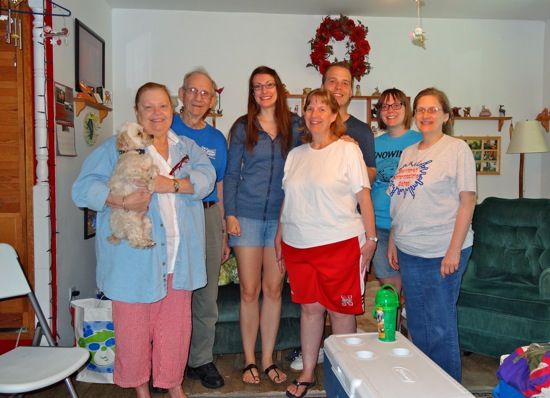 We had a very nice time visiting with them.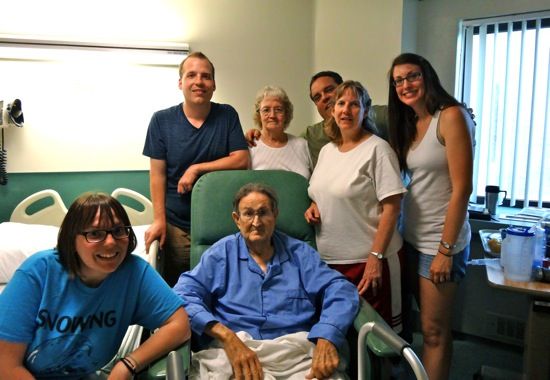 Back in Moberly, Stephen's other grandpa was in the hospital with pneumonia at the time. He is out of the hospital now, gaining more strength day by day.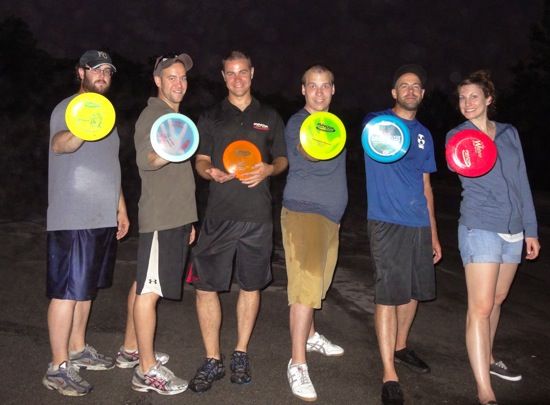 I was able to visit my 3 other brothers as well. Jared lives in Columbia and Joel and Jason drove in for the weekend. As you can see, we played a lot of disc golf... even through the rain!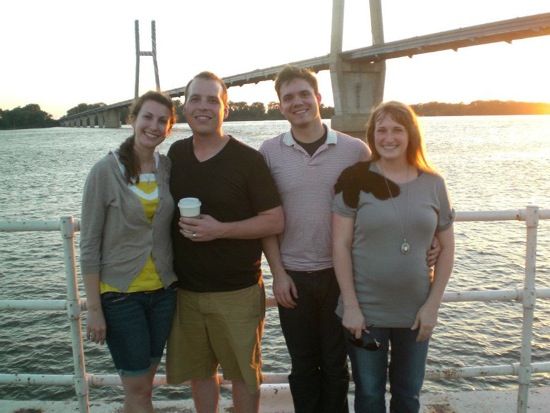 We had so much fun visiting with our best friends from college, Tyler and Katelyn again. It was great to eat Katelyn's cooking again.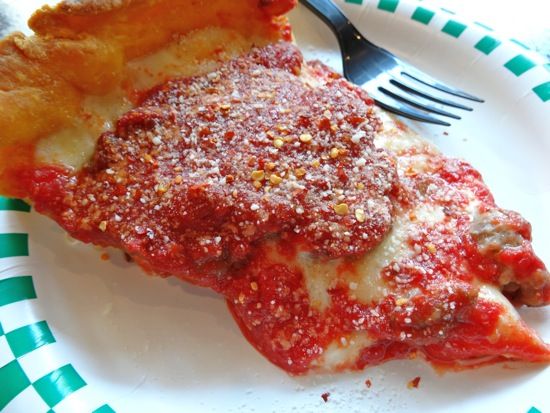 And before we left we both had a piece of Chicago deep dish pizza... the way pizza should be. We ate terribly the whole time we were in the States, but we can't get a lot of those foods here in Ireland, so it was a lot of fun eating Mexican, Pizza, and any other things that we either can't get or just aren't the same here.
We had a very nice time, but we are excited to be back and get on with what we have begun here in Ireland.