Boyne 10K
Stephen and I participated in the Boyne 10K on May 6th. It was our first time running a 10K, period. We were trying to train, but at first still had an American mindset on rain (if it looks like it is going to rain or if it is raining, you don't go out), so our training was very sporadic. Finally we realized the race was almost upon us and so we started running more consistently (3K & 4K) even in the rain. There was one day we ran a 6K and that is about when our training stopped, race time had come!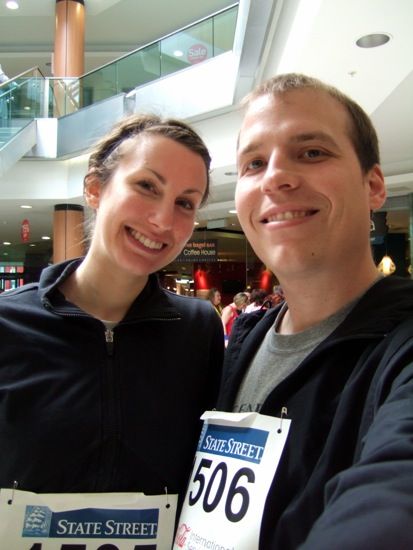 before the race
There were SO many people there to run. Over 1500 people ran. There were so many people who came out to support the runners as well, cheering us on the whole time. It was so nice. Actually felt like you were in a real race!!!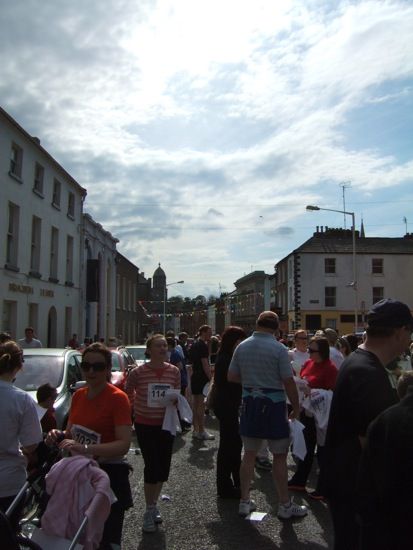 This picture was taken after the race, there was a lot of people there still, but a lot had already left! I thought that this might give you an idea of what it looked like when we started the race.
The day was really nice and sunny. Not warm, but just right for a run.
Stephen and I knew that we wouldn't have an amazing race time (due to our lack of training), but we just wanted to be able to keep running the whole time and to finish well. My only problem during the race was that I got super thirsty. Near the water station I got really excited to only find that they had run out of water!!! So, I kept on running, sideache coming and going, counting down the kilometers until the finish.
The race started in the city centre and then followed the Boyne river. There were times where it was just nice and peaceful as you ran beside the river, and then when you got back into the city to finish it was just a burst of noise and cheers! It was fun.
We ran together and our time was 1:04:27. Not bad, I think, and we ran the whole time so it was a success in that area.
Here
is a video link of us crossing the finish line. Just type in our last name and search and then click on one of our names, you will be able to see the video from there.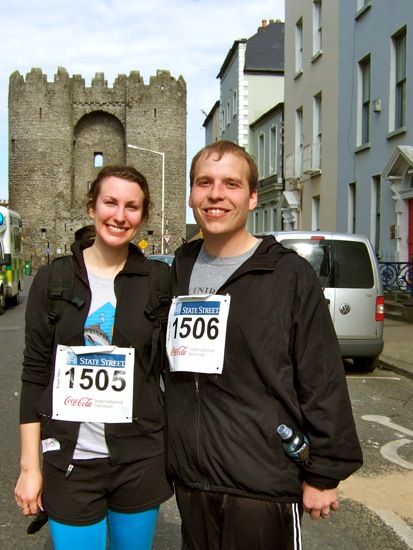 Finished!