Belfast
A few weeks ago we rode with the minister and his wife up to Belfast, which is about an hour and a half away. We really liked it. It seemed to be a little more like America in that it had similar stores, so it felt a bit like home.
It was an interesting place to be though, because of it's history. Most of the violence has stopped, although there are still incidences here and there, but not to the degree that it once was. There are walls around the police station that keep people from throwing grenades or rocks at the station.
This hotel, we have been told, is famous for being the most bombed hotel in Europe. Every time it got bombed, it would just be rebuilt again. This would happen almost every year. Since it is famous for that, a lot of celebrities like to stay there, so I guess it was good for business? Also, we saw this sign painted on a wall.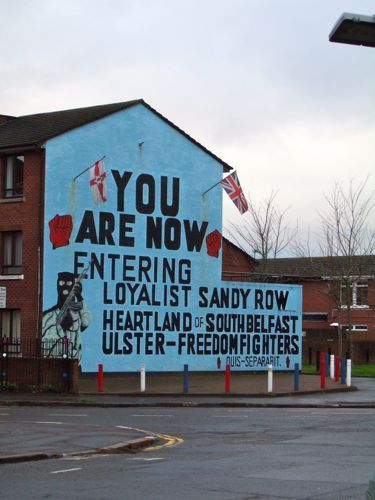 They keep it up mostly for tourism now, but it is just eerie to think that there was ever such a horrible violent separation of people.
Belfast is really nice though. It is only about 500,000 people but it has a lot of shops and is a nice city. The day we went up there it was cool because you were in the city, but you could look through the tall buildings and see mountains covered in snow.
There is a really awesome Christian bookstore in Belfast that we love. Things in Northern Ireland are cheaper than things in the Republic, and so we bought a book that actually turned out to be cheaper than what we could buy it in the States. I love it when that happens, because it doesn't happen a lot!
At this time we didn't have a car, and so we were so excited when we saw a.....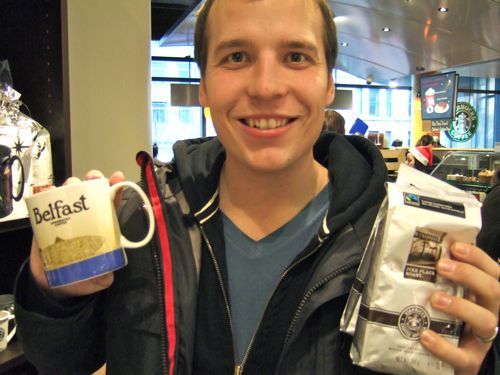 Starbucks!!! We definitely bought some Pike's Place to brew at home. Yum!
That was our trip to Belfast. We are hoping to go up again soon. This year they should have really interesting exhibits there since it is the 100 year anniversary of the Titanic sinking. The Titanic was made in Belfast. We saw the big cranes that made the passenger liner, so we will have to explore up there more a different day.