Memphis
On the 14th we needed to kill some time because we were going to meet up with Rob and Carla (the director of Kontaktmission and his wife) the next day. Stephen and I did some research on what there was to do in Memphis and decided to go to Sun Studios. We weren't going to take the tour, because, well, we don't have much personal cash these days, but were just going to see it and look in the gift shop. The guy working said that it was the best tour in Memphis and seemed sincere, and so we just decided to take the tour. How many more times are we actually going to be in Memphis and try this? Anyway, the guy was nice and gave us the "poor man" discount. We are so glad that we went! There was so much history there!. We learned of how Sam Phillips started the studio and a lot of history of the different singers he first recorded (some of them were even prisoners!). We got to go into the actual studio which is the same (ceiling, walls, floors) as when all of the legends recorded there. They had taped an "x" on the floor where Elvis first stood and recorded "That's All Right". The coolest thing is that at the end of the tour they let us pose with the vocal mic that Elvis, Johnny Cash, Roy Orbison, Carl Perkins, and everyone else used. It was pretty fun. Anyway, we were so glad that we went on that tour. If you are ever in Memphis, we recommend it.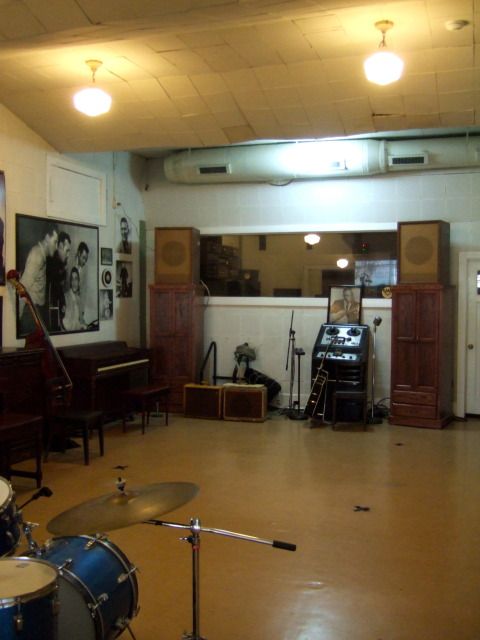 Inside the studio. It is still used as a recording studio. Those are U2's drums that they left after they recorded there.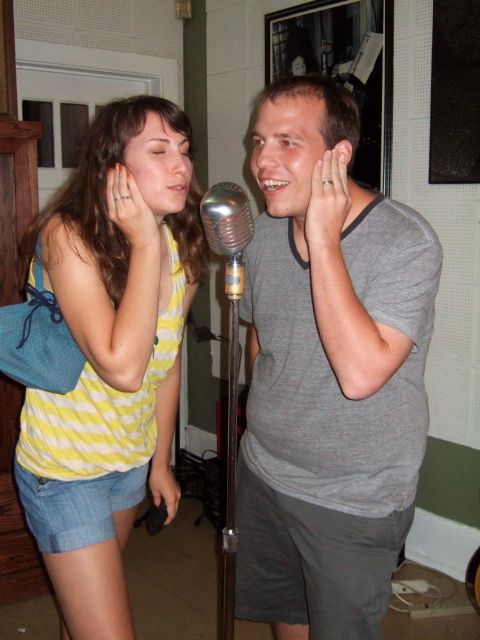 Singing in the microphone.
After that we walked down Beale Street. I was glad it was a Sunday afternoon, I feel like it could get pretty nuts there on the weekends. There were a few bands playing the blues as you walked down. It was cool. That night we at at
Huey's
. It was SO GOOD! They are famous for their burgers. I had the Texas Toast burger with pepper jack cheese and jalapenos. It was good, but Stephen definitely got the better burger. He ordered the Bluez 57 burger which has Heinz 57 sauce with blue cheese and onion strings. Yum! I wished I had gotten that one. We also got onion rings (they were huge and were made with red onions, delicious!), and sweet potato waffle fries with chipotle-ranch sauce. They also had live music, so that was cool. Anyway, just thought you might like to hear of our adventure a few weeks ago in Memphis. Thanks for reading.